Maruya (Fried Banana Fritters)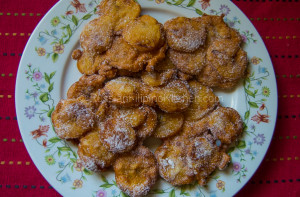 4 pieces large ripe plantain bananas
1 cup milk
1 large egg
1 cup all-purpose flour
½ cup granulated sugar
2 cups canola oil for frying
Peel bananas and slice thinly across, about ⅛ inch thick.
In a mixing bowl, beat the egg with a fork or whisk.
Add milk and mix.
Add the flour and mix thoroughly until you form a batter.
Throw in sliced plantains and mix gently to coat with batter.
Heat oil in a skillet or frying pan. Using a ladle or measuring spoon, scoop about half a cup of the mixture and drop onto heated oil. Depending on the size of your frying pan, place 3-4 at a time. Do not overcrowd. Fry over medium heat for 2-3 minutes until edges starts to turn brown.
Flip and fry the other side until banana fritters are golden brown.
Transfer to a plate lined with paper towel to drain excess oil.
Continue frying the rest of the mixture till it's used up.
Place sugar on a separate plate. Dredge banana fritters on both sides with sugar. Shake off excess.
Allow to cool completely before serving.
Recipe by
Russian Filipino Kitchen
at http://www.russianfilipinokitchen.com/2014/10/22/maruya-fried-banana-fritters/