Filipino Hotcakes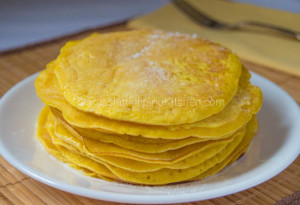 Recipe type:
Breakfast, Snack
1 cup all-purpose flour
¼ tsp salt
1 tsp baking powder
¼ cup white sugar + ⅛ cup for dusting
1 cup milk
1 large egg
1 tbsp vegetable oil
¼ tsp yellow food color
¼ cup butter or margarine
In one medium bowl, mix flour, baking powder, salt, and sugar.
Mix milk, egg, and vegetable oil in another mixing bowl.
Add wet ingredients to dry ingredients and mix until well-combined.
Add the yellow food color and mix into the batter.
Lightly oil a skillet with a cooking spray or some butter and adjust heat to medium low. Scoop ¼ cup of the batter and drop onto skillet. Shake to spread it out in the pan.
Cook for about 30 seconds or so until sides of hotcake starts to pull out. Use a turner to flip the other side and cook for another 30 seconds.
Remove hotcake from skillet. Spread butter or margarine on top and sprinkle with some sugar.
Repeat steps 4-6 until batter is used up.
Serve warm.