Filipino Beef Giniling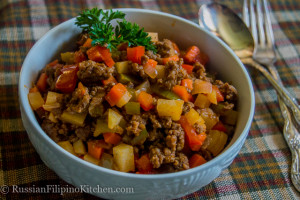 2 lbs ground beef
2 medium carrots, diced into small pieces
3 medium potatoes, diced into small pieces
1 large red bell pepper, diced into small pieces
1 large green bell pepper, diced into small pieces
1 cup water
1 small onion, chopped
2 cloves garlic, minced
¼ cup low-sodium soy sauce
1 cup tomato sauce
¼ tsp salt
⅛ tsp ground black pepper
Soak cubed potatoes and carrots in 1 cup of water and set aside.
Brown beef in skillet on high heat until no longer pink and most of the oil comes out, about 7 minutes. Remove excess oil, leaving about 2 tbsp just enough for sautéing.
Throw in garlic and onions and cook for about 5 minutes till garlic has slightly browned and onions are translucent.
Add soaked potatoes and carrots, discarding water. Sauté for 1 minute.
Add bell peppers, and mix.
Add soy sauce.
Add tomato sauce, salt, and pepper, then mix.
Cover skillet and simmer on medium heat for 15 minutes, stirring 3 times in 5-minute interval until potatoes and carrots are cooked and most of the liquid has evaporated.
Serve with rice or if you are on a diet, eat as it is to cut on carbs.