Ensaladang Talong (Filipino-style Roasted Eggplant Salad)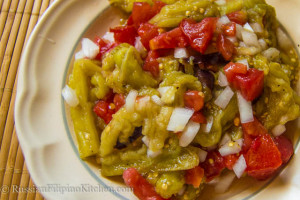 2 large Chinese eggplants
1 large tomato
½ medium onion
2 tbsp white vinegar
½ tbsp white sugar
¼ tsp salt
⅛ tsp ground black pepper
Use a fork or knife to pierce eggplants on all sides, and then place on a baking sheet (I prefer to line my baking sheet with aluminum foil for easy cleanup).
Set your oven to broil setting and roast eggplants uncovered for 20-25 minutes until skin has wrinkled and darkened. Remove from oven and set aside to cool.
Meanwhile, dice tomatoes and chop onions and place in a bowl.
Once eggplants have cooled, peel them carefully, removing as much skin as possible. Don't worry if you're unable to remove all of it, they won't affect the taste of the salad.
After you peeled the skin off, cut the stem off then cut eggplant into 3-inch lengths.
Place eggplants in the bowl together with tomatoes and onions. Add vinegar, sugar, and salt. Toss salad and serve.
Recipe by
Russian Filipino Kitchen
at http://www.russianfilipinokitchen.com/2014/08/15/ensaladang-talong-filipino-style-roasted-eggplant-salad/