Breaded Pork Ribs (Loslos)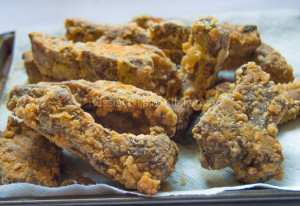 3 pounds baby back ribs, cut into individual rib pieces
5 cups water
¼ cup soy sauce
2 tbsp distilled white vinebreaded pork ribs loslos 02gar
1 tsp whole peppercorns
1 dry bay leaf
3 cloves garlic, crushed
3 large eggs
¾ cup all-purpose flour
½ tsp salt
¼ tsp ground black pepper
6 cups vegetable oil for frying
Arrange pork ribs in a cooking pot and add water, soy sauce, vinegar, peppercorns, bay leaf, and garlic. Bring to a boil. Once it starts boiling, lower the heat to medium low and simmer for 30 minutes or until the meat is soft enough to pierce with a knife or fork.
Use a kitchen tong to transfer rib pieces from the pot to a plate or bowl. You can discard pork stock if you want. However, I personally use it when making pancit, as it adds great flavor to the noodles. I strain the stock and set aside to cool down before transferring in a container to refrigerate or freeze for later use.
Prepare breading mix. In a flat plate, mix together flour, salt, and ground pepper. Beat eggs in a separate bowl.
Heat oil in the fryer or skillet. Dip rib pieces in egg, coat in flour, and drop onto fryer/skillet. Fry for about 3 minutes or until it turns golden brown. Drain in paper towel to remove excess oil.
Serve with favorite dipping sauce.
Recipe by
Russian Filipino Kitchen
at https://www.russianfilipinokitchen.com/2014/08/08/breaded-pork-ribs-loslos/