Biko Tapol Recipe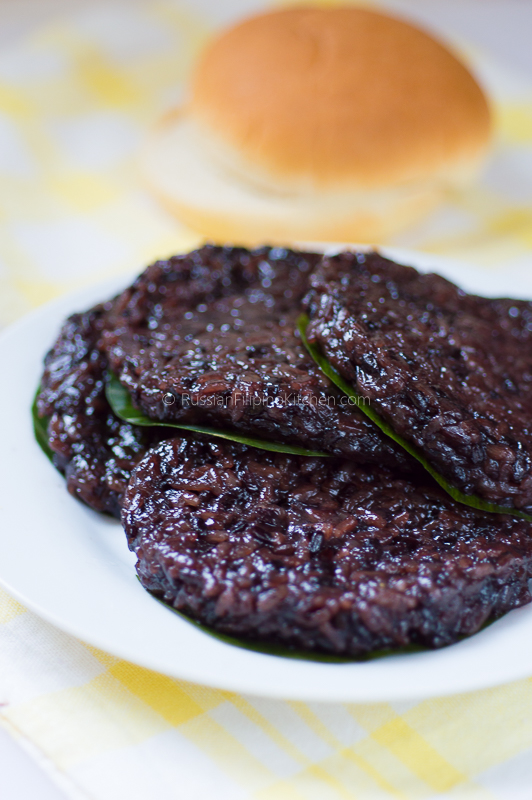 Recipe type:
Dessert, Snacks
1½ cups sweet rice/glutinous rice (aka pilit)
½ cup sweet black or purple rice (aka tapol)
3 cups + 1½ cups water (for cooking the rice)
2 cups packed brown sugar
2 cups coconut cream
2 cups coconut milk
Tools/Materials You'll Need:
Medium sauce pan or pot for cooking the rice
Large skillet or wok
Cooking spoon
Container for cooked biko
Banana leaves (optional)
Mix purple rice and 3 cups of water in a medium sauce pan and bring to a boil. Lower heat to medium low and simmer uncovered for 30 minutes until most of the water dries up.
Rinse glutinous rice with cold water and place in same pot. Add 1½ cups water and stir. Bring to a boil and simmer over medium low heat until most of the water has evaporated. Check the rice for doneness. Purple rice should be cooked al dente (not mushy) while sweet rice is about almost cooked but not quite (it should be a little nutty when you bite the grains with your teeth). Set aside.
In a large skillet or wok, mix together brown sugar, coconut cream, and coconut milk. Bring to a boil and simmer over medium high heat for about 10 minutes until the liquid has thickened a little, stirring often.
Lower heat to medium and add pre-cooked rice. Cook until mixture gets very sticky and pulls away from the skillet. It's done when you barely can mix it and when it gets shimmery in appearance.
Remove from heat and transfer to a prepared container lined with banana leaves, then allow to cool before serving. My favorite way is shaping them into round discs using the lid of a quart-size mason jar and placing them individually in pre-cut round-shaped banana leaves for easier serving and portion control.