Chicken Kotleti (Russian-style Meatballs)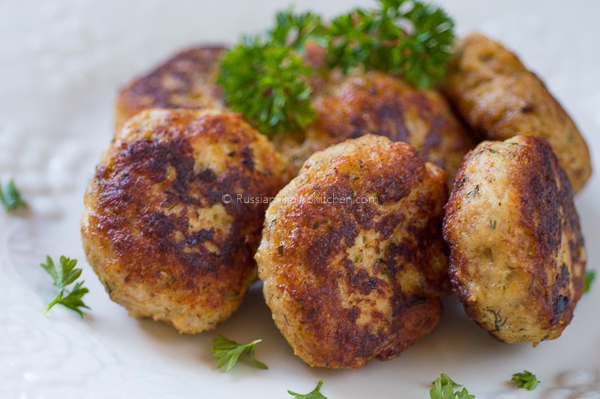 2 lbs ground chicken
4 slices wheat bread (or regular white bread), crusts removed
½ cup whole milk
½ medium onion finely chopped
4 cloves garlic finely chopped or 2 tsp garlic powder
2 large eggs
1½ tbsp finely chopped fresh or frozen dill
1 tsp salt
½ tsp ground black pepper
1 cup Italian bread crumbs
¼ cup canola oil for frying
Tools/Materials You'll Need:
Knife
Cutting board
Box grater or food chopper
Mixing bowls (1 small, 1 large)
Baking sheet or large plate or tray
Fork/rubber spatula
Ice cream scoop or spoon
Frying pan
Spatula/Turner
In a small mixing bowl, break slices of bread into small pieces and soak them in milk. Set aside for about 5 minutes.
In a large mixing bowl, combine soaked bread and the rest of the ingredients. Mix thoroughly using a fork, spatula, or your hands (the best tool!)
Scoop out mixture and form into a ball.
Place on a tray in a single layer. Repeat step 3 until mixture is used up.
Heat up a frying pan over medium low heat. Add the oil and place meatballs into the pan. I use a 12-inch skillet so I can easily fit 8-10 pieces of kotleti in it. Do not overcrowd the pan.
With a flat spatula, gently flatten each meatballs.
Fry kotletis on medium low heat 4-5 minutes on each side until golden brown.
Drain on paper towels to remove excess oil.
Fry up another batch until you're done.
Serve warm or chilled.
Recipe by
Russian Filipino Kitchen
at https://www.russianfilipinokitchen.com/2015/11/14/chicken-kotleti-russian-style-meatballs/