Pork Afritada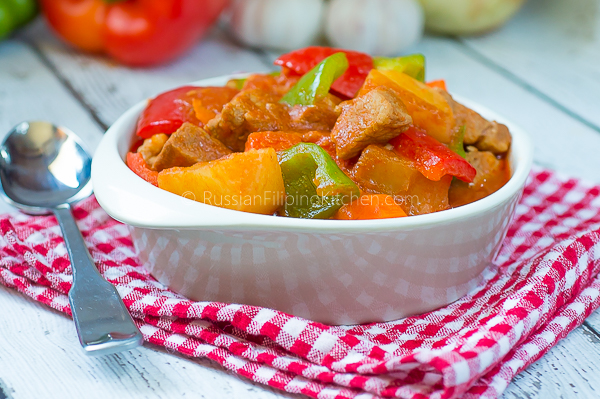 2 lbs pork shoulder
2 medium Russet potatoes
3 medium carrots
1 large red bell pepper
1 large green bell pepper
3 cups water
1 can tomato sauce (15 oz)
1 dry bay leaf
½ medium onion
2 large cloves garlic
2 tbsp canola oil (or any vegetable oil you have)
1 pork bouillon cube
Peel garlic and mince. Also peel onion, and coarsely chop. Set aside.
Cut pork into 1-inch cubes.
Heat pan over medium high heat. Add oil and saute onions and garlic till fragrant, about 2 minutes.
Throw in cubed pork pieces and saute till no longer pink, about 10 minutes
Add 3 cups of water, bouillon cube, and bay leaf. Bring to a boil. As soon as water starts boiling, lower heat to low and simmer for an hour until pork is tender (test by piercing with a fork or tip of a sharp knife. It should pierce easily without a problem).
While the meat is simmering, prepare the vegetables about 15 minutes before you throw them into the pot. This way the potatoes don't turn dark or the bell peppers wilt just sitting on the counter while the meat is getting ready. This is just my preference, though. If you want to prep them ahead of time, make sure you soak the potatoes in a bowl of cold water and refrigerate cut up bell peppers in the fridge until ready to use. So, moving on to prepping the veggies.
a.) Wash bell peppers, then remove the seeds and ribs (the white stuff that runs along the flesh), then slice into 1-inch chunks.
b.Peel potatoes with a vegetable peeler or a paring knife and cut into 1-inch cubes. Do the same thing with the carrots.
Once the meat is tender, add tomato sauce, potatoes, and carrots into the pot. Stir to mix. Bring to a boil then simmer for 5-8 minutes until almost tender.
Throw in bell peppers and cook for 3-5 minutes until just limp.
Remove from heat and serve immediately.