Curried Okra and Tomato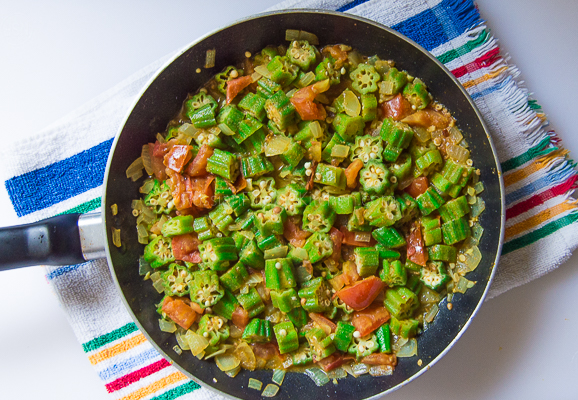 1 lb okra
1 large tomato
½ medium onion
1 large clove of garlic
1 tbsp curry powder
2 tbsp extra virgin olive oil
½ cup water
¼ tsp salt
⅛ tsp ground black pepper
pinch of dried chili flakes or ground cayenne pepper
Peel and dice onions, then peel and mince garlic, too. Set aside.
Trim both ends of okra pods and cut into ½ inch lengths.
Chop tomato into ½ inch chunks.
Heat skillet on medium high. Add oil and saute onions and garlic till fragrant, about 2 minutes.
Throw in chopped tomatoes and okra and saute until slightly limp, about 2 minutes.
Add curry powder, water, salt, ground black pepper, and a pinch of red pepper flakes or ground cayenne pepper. Mix with a spoon.
Cover skillet and simmer on medium low heat for 15 minutes or until okra are tender.
Remove from heat and serve immediately.