Pinatatasang Manok (Bone-in Chicken with Potatoes)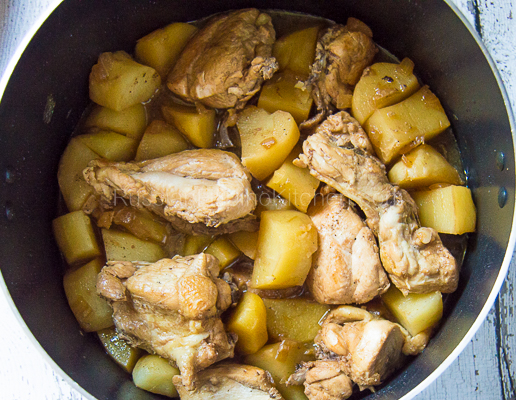 2 lbs bone-in chicken cut into into serving pieces
1 lb Russet potatoes (or about 4 pieces medium)
¼ cup low-sodium soy sauce
2 tbsp olive oil (or any vegetable oil of choice)
1 cup water
½ medium onion
1 large clove of garlic
¼ tsp ground black pepper
Wash and peel potatoes then cut into 1-inch chunks.
Peel and dice onions. Also, peel garlic and mince.
Heat oil over high heat in a 5-quart cooking pot.
Brown chicken pieces, cooking 3 minutes per side.
Turn down heat to medium high, and saute garlic and onions until soft and fragrant, about a minute.
Throw in potato chunks.
Add soy sauce, ground black pepper, and water. Stir to mix.
Cover and simmer for 15 minutes till potatoes are tender ( can be easily pierced with a knife or fork) and the liquid has reduced.
Remove from heat and serve immediately.
Recipe by
Russian Filipino Kitchen
at https://www.russianfilipinokitchen.com/2015/03/25/pinatatasang-manok-bone-in-chicken-with-potatoes/