Ginisang Munggo With Dilis (Sauteed Mung Beans With Salted Dried Anchovies)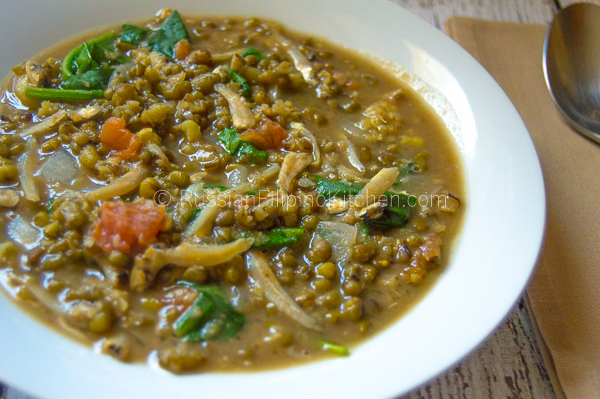 6 cups pre-boiled green mung beans (Click to check how to cook mung beans)
1 tbsp fish sauce
2 tbsp olive oil (or any cooking oil you have)
½ small onion, chopped
2 cloves of garlic, minced
1 thumb-size ginger, peeled and sliced thinly
2 cups of fresh spinach
1 large tomato, chopped
2 cups salted dried anchovies (dilis)
½ tsp salt
½ tsp ground black pepper
2 cups water
Heat a big pot over medium high heat and add the oil. Saute ginger till fragrant, about 2 minutes.
Add the onions and garlic and sauté till onions are translucent and garlic has browned a little, about a minute.
Throw in the diced tomatoes and sauté until slightly limp, about 2 minutes.
Add in pre-boiled mung beans followed by the dried anchovies. Stir.
Add water, fish sauce, salt, and pepper, then stir to mix everything.
Bring to a boil, turn down heat to medium low, then simmer for 5 minutes uncovered.
Add spinach, stir to mix, then turn off stove. Cover until ready to serve.
Recipe by
Russian Filipino Kitchen
at https://www.russianfilipinokitchen.com/2015/02/24/ginisang-munggo-with-dilis-sauteed-mung-beans-with-salted-dried-anchovies/