Easy Pork Meatballs Filipino-Style (Bola-bola)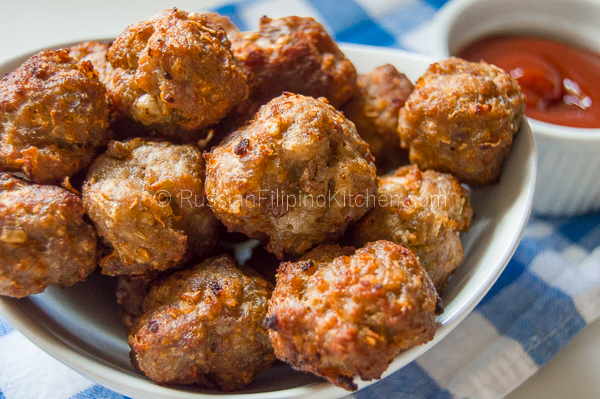 Serves:
4 dozens (approx.)
2 lbs ground pork
2 large eggs
½ cup plain bread crumbs
1 small onion
6 cloves garlic (use less if you don't like garlic)
1 tbsp soy sauce
1 tsp salt
½ tsp ground black pepper
3-4 cups of oil for frying
Peel onion and garlic. Slice onion into cubes.
Place them on a food chopper and chop until very fine. If you don't have a food chopper, just use a knife and chopping board to mince onions and garlic very finely. Also, if you have a grater or shredder, you can use that as well.
Mix everything together except the cooking oil in a large mixing bowl. It's best to use your clean hands to do the job to ensure all ingredients are well-combined.
Scoop portion of meat mixture and form into a ball. Set aside.
Repeat step 4 till mixture is used up.
Heat up oil on frying pan over medium high heat. Once oil is hot, carefully drop meatballs one by one. (Test by sprinkling water into the oil. It should be ready when it sizzles). Do not overcrowd the pan.
Deep fry till golden brown, about 10 minutes.
Drain on paper towels to remove excess oil.
Fry up another batch until you're finished with the rest.
Serve meatballs warm with a dipping sauce. Refrigerate the rest by keeping them in an airtight container or Ziploc bag and freeze for future use.
Recipe by
Russian Filipino Kitchen
at https://www.russianfilipinokitchen.com/2015/02/17/easy-pork-meatballs-filipino-style-bola-bola/