Pork Humba Bisaya (Braised Pork Belly)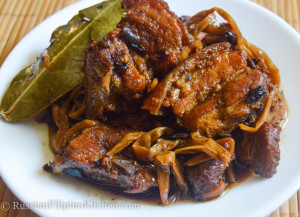 2 lbs. pork belly, cut into 1½-inch squares
1 pack dried banana blossoms
¼ cup salted black beans (tausi), drained
½ cup soy sauce
¼ cup distilled white vinegar
½ cup brown sugar
6 garlic cloves, minced
2 dry bay leaves
1 teaspoon whole peppercorns
4 cups water
Rinse meat thoroughly under cold running water and pat dry with paper towels.
In a non-stick skillet over medium heat, arrange pork belly slices in one layer and pan-fry until most of the oil comes out. If you use a smaller pan, you may do this in two batches.
(Note: Be extra careful during this step because hot oil can splatter and burn you. Use a splatter guard or keep the pan covered and cook on low heat setting. The latter choice may lengthen the cooking time, but much safer to my opinion based on my experience. I tried both techniques and found cooking on low and covering the pan reduces oil splatter significantly.)
Once the meat turns brown and most of the fat has rendered, remove from heat and transfer to a cooking pot.
Add the rest of the ingredients into the pot and bring to a boil. Lower heat to medium low and simmer for an hour until pork has become tender and sauce has thickened.
Serve with rice.
Recipe by
Russian Filipino Kitchen
at http://www.russianfilipinokitchen.com/2014/07/24/pork-humba-bisaya-braised-pork-belly/