Ginisang Sitaw (Sauteed Long Beans With Pork)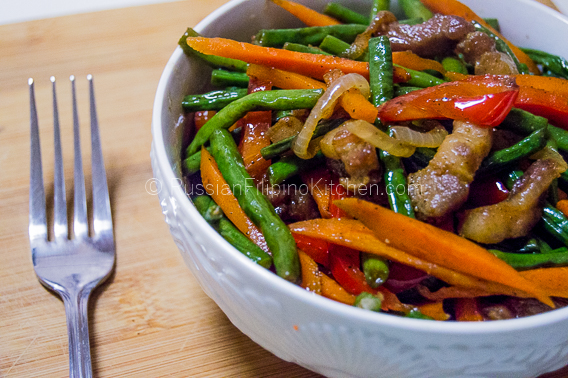 1 lb long beans (sitaw)
3 small carrots
1 red bell pepper
¼ lb lean pork (or pork belly, note: omit the cooking oil if using this type of meat)
2 tbsp extra virgin olive oil (or any oil you have for sauteing)
2 tbsp low-sodium soy sauce
½ medium onion
2 cloves garlic
⅛ tsp ground black pepper
1 Knorr pork bouillon cube
Slice pork belly into small trips about ¼ inch thick.
Peel carrots and cut into diagonal strips, or julienned, whichever you prefer.
Wash and remove seeds from bell pepper, then cut into strips or julienned as well.
Wash long beans, trim the ends, and cut into 2-inch lengths.
Peel and mince garlic. Also, peel and slice onion.
Heat skillet on medium high. If using pork belly, add meat slices into the skillet and allow most of the fat to come out and for the meat to brown, about 3-5 minutes. If using lean pork, add oil and sauté until meat is browned, around 3 minutes.
Add onions and garlic and sauté until onions get translucent and garlic has browned a little, about a minute.
Throw in all the vegetables and the bouillon cube and sauté for about 3 minutes, enough for the pork cube to dissolve.
Pour in the soy sauce and mix. Cover skillet and cook for additional 5 minutes until vegetables are tender, stirring once.
Add ground black pepper last.
Serve immediately with rice, or as it is.
Recipe by
Russian Filipino Kitchen
at https://www.russianfilipinokitchen.com/2014/12/01/ginisang-sitaw-sauteed-long-beans-with-pork/