Sauteed Green Beans With Bacon and Egg Whites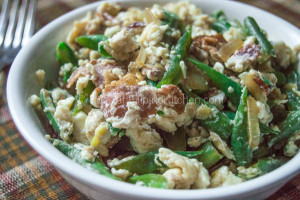 1 lb green beans, sliced into diagonal strips
12 egg whites
½ small onion, sliced
4 oz chopped bacon (about 6 slices)
1 tsp soy sauce
⅛ tsp ground black pepper
Heat up skillet over medium high and add chopped bacon. Cook until browned and most of the fat comes out, about 3-4 minutes.
Add onions and garlic until onions become translucent and garlic has browned a little, about 2 minutes.
Throw in green beans and sauté for a minute. Add soy sauce, mix and cover. Cook for 3 minutes or so mixing once, until beans has softened.
Make a well on center of skillet and add egg whites. Cover for another minute until eggs are cooked halfway.
Mix everything together, season with ground black pepper, and cook for additional 2 minutes until the eggs are thoroughly cooked.
Serve warm.
Recipe by
Russian Filipino Kitchen
at http://www.russianfilipinokitchen.com/2014/12/27/sauteed-green-beans-with-bacon-and-egg-whites/