Baked Filipino Beef Empanada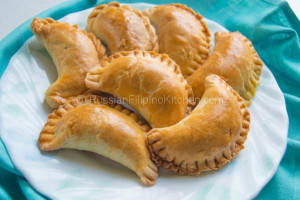 Recipe type:
Appetizer, Snacks
Serves:
28 small empanadas
Ingredients:
For the Dough:
3 cups all-purpose flour + more for dusting
½ teaspoon baking powder
½ teaspoon salt
¼ cup white sugar
¾ cup chilled unsalted butter (1 ½ stick or 6 oz or 170 grams), cut into ½ inch thick
1 large egg
⅓ cup ice cold water
For the Filling:
1 pound (1/2 kilo) ground beef
½ medium onion, chopped
2 cloves garlic, minced
½ cup diced potatoes (or about 2 small ones)
½ cup diced carrots (or about 2 small ones)
½ cup frozen green peas
¼ cup raisins (add more if you love raisins)
1 tablespoon low-sodium soy sauce
2 tablespoons tomato sauce
½ teaspoon salt
¼ teaspoon ground black pepper
Empanada Dough
Prep Time: 5 minutes
In a large bowl, mix flour, baking powder, salt, and sugar.
Add butter slices into the flour mixture and using your fingers, slowly incorporate butter into the mixture until it resembles coarse bread crumbs.
In another smaller mixing bowl, beat the egg and mix it with ice cold water.
Add wet ingredients to dry ingredients and mix until you form a dough.
Lightly sprinkle flour onto a clean, flat surface and transfer dough.
Form into a ball, cover with plastic cling wrap, and refrigerate for at least an hour. Chilling the dough makes it easier to work later on.
Empanada Filing:
Prep Time: 10 minutes
Cook Time: approximately 20 minutes
Brown ground beef on a skillet on medium high heat for about 3-4 minutes. Remove excess oil, leaving only about 2 tablespoons of fat for sautéing.
Throw in onions and garlic and sauté until garlic has browned a little and onions are translucent, about 2 minutes.
Add in the diced carrots, potatoes, green peas, and raisins. Saute for a minute or so until slightly softened.
Season with tomato sauce, soy sauce, salt, and ground black pepper and mix.
Cover skillet and adjust heat to medium low. Allow the vegetables to cook for 10 minutes, stirring 2-3 times in between. To check for doneness, pierce carrots and potatoes with fork or knife.
Remove from heat and allow to cool.
Stuffing and Baking Empanada:
Prep Time: 30 minutes
Cook Time: approximately 18-25 minutes
Preheat oven to 375ºF.
Remove dough from refrigerator and unwrap plastic wrap. Cut dough in half and work on each half one at a time.
Sprinkle flour on a clean, flat surface and flatten dough using a rolling pin. Make it as thin as possible.
Use a round cookie or donut cutter, a small bowl, or a cup to cut out discs from the dough. I used a drinking glass on this one that's 3 inches in diameter. If you want bigger empanadas, use a bigger cutter.
Remove discs and pile up on one side, and set aside excess dough cuttings.
Place empanada disc on your palm and place enough empanada filling on the center.
Use your fingers to fold in half towards the edges and pinch the sides to close.
Use a fork to seal the sides tight. I find this method much easier and more effective in sealing smaller empanadas.
Another way of sealing the empanada is to pinch and fold the sides. This adds visual appeal and works best for larger empanadas. Watch this video link to see how it's done.
Repeat steps 5-8 to stuff and seal more empanadas until you used up the round discs you have. To make more, shape the excess dough cuttings into a ball, flatten with your hands, and roll out thin using a rolling pin. Use a round cutter to cut out more discs. Work with the second half of the refrigerated dough until you're finished cutting, stuffing, and sealing.
Place empanadas in a single layer on a baking sheet lined with parchment paper.
Make an egg wash by beating an egg in a small bowl. Brush each empanada with the egg wash to make them shiny and brown after baking.
Place baking sheet on center rack inside the oven and bake for 18-20 minutes. Empanadas are done when they appear light brown and shiny.
Remove from oven and allow to cool before serving.
Tips:
• Use unsalted butter for this recipe. If you have to use salted butter, omit the salt. You don't want your pastry dough get too salty.
• When rolling out the dough, make it thin as you can but still strong enough to hold the fillings. Empanadas with thicker dough are not as enjoyable to eat as thinner ones with just the right amount of filling (my opinion!)
• Work as fast as you can when working with the dough (cutting, stuffing, and sealing) as the more you handle them, the butter in the dough melts. You will notice the dough gets oily and softer. If this happens, place the dough in the freezer for a couple minutes until they harden a little, before proceeding.
Recipe by
Russian Filipino Kitchen
at http://www.russianfilipinokitchen.com/2014/12/21/baked-filipino-beef-empanada/