Russian Crab and Corn Salad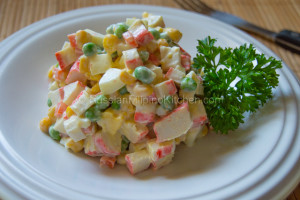 Cuisine:
Russian/Ukrainian
1 lb imitation crab meat sticks
4 eggs
2 pieces medium carrots
2 cups frozen green peas, thawed
1 can (14 oz) whole kernel sweet corn
1 cup mayonnaise
¼ tsp salt
⅛ tsp ground black pepper
In a medium sauce pan or cooking pan, place eggs and carrots together and add water just enough to cover. Bring to a boil and simmer over low medium for 15 minutes until carrots are soft enough to pierce. Note: I did this method many times and it works for me. Saves me the time, effort, dishes to wash afterwards, and of course the gas in cooking. However, you can use separate pots for boiling the egg and carrots, if you prefer.
While the eggs and carrots are getting cooked, drain can of corn and place corn kernels on a strainer over a bowl to further strain excess liquid. Set aside until ready to use.
Chop or dice crab meat into small cubes.
As soon as eggs and carrots are cooked, remove from heat, place in a colander, and rinse in cold water until cool enough to touch. Peel eggs and carrots.
Dice eggs into small pieces.
Dice carrots into small pieces as well.
Place green peas, corn, crab meat, eggs, and carrots into a large mixing bowl. Add the mayo, salt, and pepper and mix gently.
Chill for at least an hour before serving (overnight better) for better flavor.
Recipe by
Russian Filipino Kitchen
at http://www.russianfilipinokitchen.com/2014/09/24/russian-crab-and-corn-salad/