Pancit Canton Guisado With Pork, Chicken, and Shrimps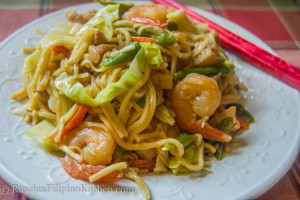 Recipe type:
Main, Noodles
1 lb pancit canton noodles
½ lb pork belly, cut into strips
1 pc chicken breast, cut into strips
½ pound raw shrimps, deveined
2 medium carrots, julienned
10 pcs green beans, cut into diagonal strips
½ medium cabbage, cut into strips
1 small onion, sliced
2 cloves garlic, minced
¼ cup low-sodium soy sauce (use less if using regular soy sauce, adjust to taste)
4 cups chicken broth (canned or homemade)
⅛ tsp salt
¼ tsp ground black pepper
Heat wok or large skillet. Salt pork belly with ⅛ tsp salt and let it brown. Let fat dissolve and come out. This step takes about 8-10 minutes . Discard oil leaving only 2 tbsp for sauteing.
Throw in chicken breast and sauté until no longer pink, about 2 minutes.
Add shrimps and cook until they turn orange, about 1 minute.
Add garlic and onions and sauté until onions are translucent, about 3 minutes.
Add carrots and green beans. Sauté for a minute then add the soy sauce and ground black pepper. Cook for 2 minutes till halfway done. Do not overcook.
Transfer pancit base to a heat-proof container and set aside.
In the same skillet where you sauté the meat and vegetables, pour 4 cups of chicken broth and let it boil.
Add dry pancit canton noodles and cabbage. Lower heat to medium low and mix using a spaghetti spoon (much easier to maneuver than regular cooking spoon). Cook noodles and cabbage for about 2 minutes or until most of the broth is gone.
Add the sautéed meat and veggies into wok/skillet and mix, mix, mix until everything is thoroughly cooked and the liquid dries up.
Serve hot with calamansi or lemon or just as it is. Enjoy!
Recipe by
Russian Filipino Kitchen
at http://www.russianfilipinokitchen.com/2014/09/02/pancit-canton-guisado-with-pork-chicken-and-shrimps/