Baked Mussels With Cheesy Garlic Butter Topping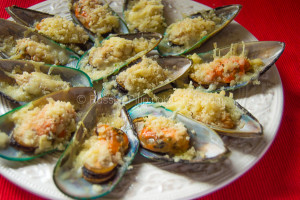 2 lbs half-shell mussels
½ cup (1 stick) unsalted butter
½ cup Panko (Japanese style) bread crumbs
6 cloves garlic
½ cup mozzarella cheese
1 tsp dried parsley flakes
Preheat oven to 250ºF.
Grate ½ cup of cheese and mix with ½ cup Panko bread crumbs. Mix together and set aside.
Slice butter to melt them fast. (optional step)
Peel and mince garlic. You can use a food chopper if you want them chopped very fine.
Heat up a sauce pan over low heat. Melt the butter and add minced garlic and 1 teaspoon dried parsley flakes. Cook for about 3 minutes.
Transfer melted butter onto a mixing bowl. Set aside.
Arrange half-shell mussels in a single layer on a baking sheet.
Brush mussels with the melted garlic-butter-parsley mixture one at a time.
Sprinkle with cheese-bread crumb mixture on top.
Bake for 20 minutes.
Remove from oven, allow to cool, then serve.
Recipe by
Russian Filipino Kitchen
at http://www.russianfilipinokitchen.com/2014/12/13/baked-mussels-with-cheesy-garlic-butter-topping/