Filipino Chicken Adobo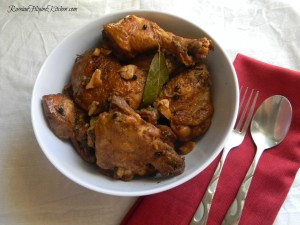 2 lbs chicken leg quarters, cut into serving pieces
½ cup low-sodium soy sauce
¼ cup distilled white vinegar
2 tbsp brown sugar
1 tsp whole peppercorns
1 large dry bay leaf
1 head garlic
3-4 cups water (or enough just to cover)
Separate garlic cloves and smash each one with the flat side of a knife. Peel and set aside.
Arrange chicken pieces into the pot and add the rest of the ingredients.
Turn on stove on high, cover the pot, and bring to a boil.
Once it's boiling, remove cover and adjust heat to low. Simmer uncovered for 1½ hours until sauce has reduced and thickened.
Serve immediately with white boiled rice.