Pinaypay na Saging (another variation of fried saba banana fritters)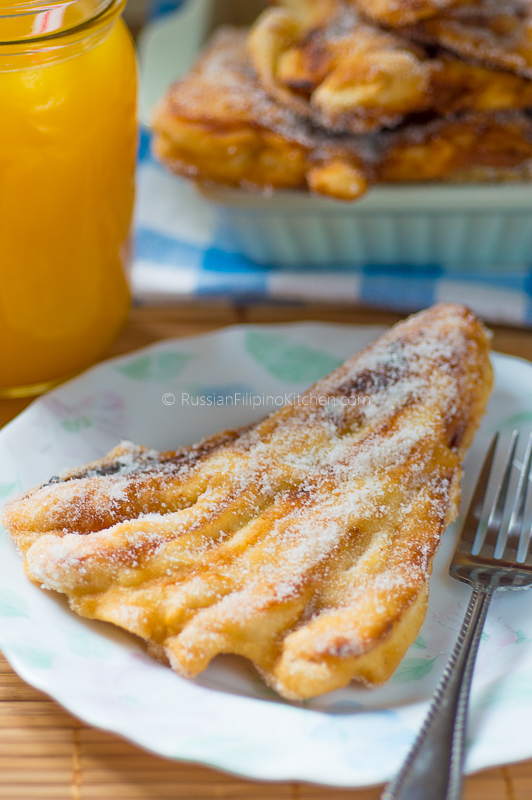 6 pieces ripe saba bananas (not overripe)
1 cup all-purpose flour
¾ cup water
¼ cup granulated/white sugar for dusting
2 cups vegetable oil for frying (I use canola oil)
Tools/Materials You'll Need:
Paring knife
Cutting board
Medium mixing bowl
Fork or whisk
Paper towels
Baking sheet, plate, or tray
Plates (2 pieces)
Frying pan
Tong
Kitchen turner
Prepare the batter by mixing the flour and water in a mixing bowl until smooth. Set aside. Transfer sugar onto a plate and set that aside as well.
Peel bananas. Use a knife to cut 4-5 vertical slices in each banana starting from the top to bottom leaving about an inch of space on the bottom. This makes it easier for you to hold the bananas individually when you dunk them in the batter.
Gently and carefully spread the slices towards the side, imitating the shape of a hand fan. Carefully arrange them in a single layer on a baking tray or plate while you heat up the frying oil.
Heat up oil in a frying pan over medium high heat until temperature reaches 350ºF (180ºC).
Dip banana into flour batter and coat both sides. Allow batter to drip for a second or two then carefully drop onto the hot oil. Fry until side is golden brown. Depending on the diameter of your frying pan, you may fry more than 2 pieces at a time. But in my case, I can only do two.
Use a turner or tong to flip the fritters over and fry the other side until golden brown as well.
Remove from pan and place on plate lined with paper towels to absorb excess oil. Fry up another batch until done.
Dredge warm pinaypay with some sugar and shake off excess.
Serve with beverage of choice.
Recipe by
Russian Filipino Kitchen
at http://www.russianfilipinokitchen.com/2015/09/25/pinaypay-na-saging-another-variation-of-fried-saba-banana-fritters/