Chicken Caldereta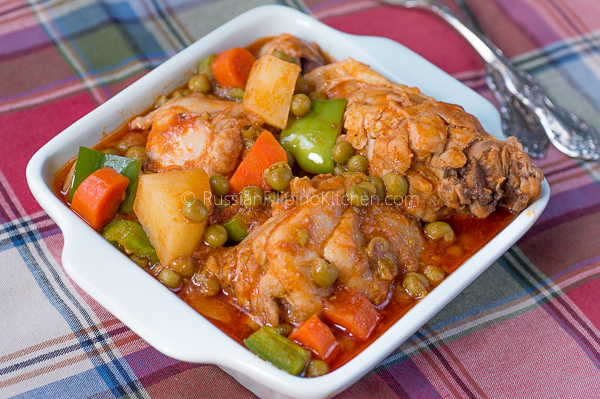 Recipe type:
Lunch, Dinner
Ingredients:
2 lbs bone-in chicken pieces
1 medium potato
1 medium carrot
1 medium bell pepper
1 can (15oz) Hunt's tomato sauce
1 can (15oz) sweet green peas
½ medium onion
2 cloves garlic
4 cups water
½ tsp salt
¼ tsp ground black pepper
1 tbsp vegetable oil
Wash and peel potato and cut into medium chunks.
Do the same thing with the carrot.
Wash and core bell pepper then slice into medium chunks.
Peel onion and chop into small pieces. Similarly, peel garlic and mince.
Heat a large cooking pot over medium high. Add the oil and saute onions and garlic until fragrant.
Throw in chicken pieces and saute for about 2 minutes on both sides until slightly browned.
Add water and season with salt and pepper. Cover pot and bring to a boil. Once it starts boiling, lower the heat and let it simmer for 45 minutes until meat is tender.
Add tomato sauce, carrots, and green peas and simmer until vegetables are tender, about 10 minutes.
Throw in the bell peppers last and cook for 2-3 minutes until slighly limp.
Remove from heat and serve immediately.