Creamy Crab and Corn Soup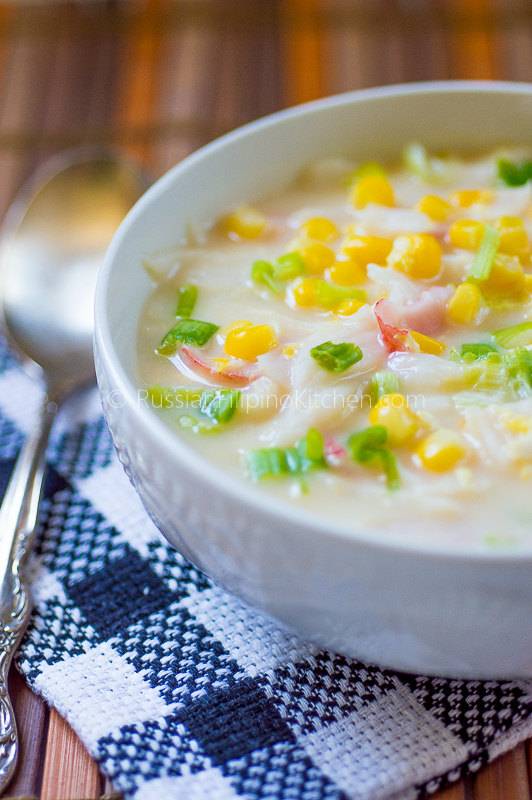 Recipe type:
Soup, Lunch, Dinner
2 cups (1 lb) good quality imitation crab meat, flaked or chopped
1½ cups whole sweet corn kernels (fresh or frozen)
2 quarts water (8 cups)
1 bouillon cube (I use shrimp flavor)
1 can (12 oz) evaporated milk or 1½ cups regular milk or half-and-half
2 large eggs
½ cups chopped green onions
2 tbsp cornstarch dissolved in ¼ cup water
salt and pepper to taste
Fill cooking pot with 8 cups cold tap water. Add the crab meat, corn, and bouillon cube.
Place pot on the stove and cover, then turn on heat to high and bring to a boil. As soon as it starts boiling, remove lid and lower heat to medium low and simmer for 15 minutes, stirring occasionally.
Add the milk into the pot and stir.Let it simmer for a couple of minutes.
Crack eggs into a bowl and beat lightly using a whisk or fork.
Drizzle beaten eggs slowly into the pot, allowing it to cook a little, then stir to disperse. Add dissolved cornstarch and cook for about a minute, stirring constantly to prevent lumps.
Turn off heat add chopped green onions. Also, add salt and pepper to taste if desired. Stir and allow to sit for a minute or two before serving.
Scoop into individual soup bowls and serve hot.
Recipe by
Russian Filipino Kitchen
at http://www.russianfilipinokitchen.com/2015/08/09/creamy-crab-and-corn-soup/