Skinless Longganisa Recipe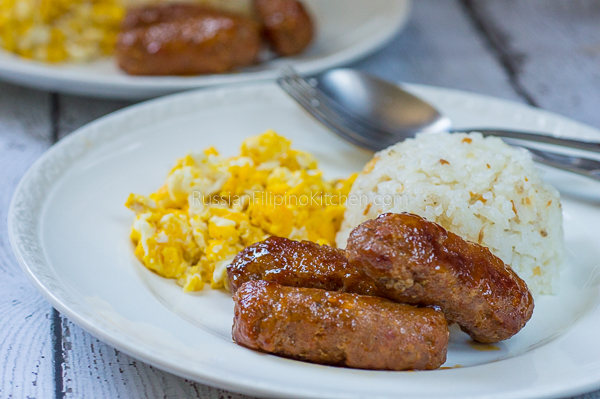 1½ lbs lean ground pork
½ lb ground pork fat
½ cup packed brown sugar
2 tsp achuete powder (for coloring)
2 tbsp low-sodium soy sauce
2 tbsp distilled white vinegar
1 tbsp salt
1 tsp ground black pepper
1 head garlic
Cut up 30 pieces 5" x 3" rectangles of wax paper. You will use this for wrapping the individual longganisa. Set aside till ready to use. This step is optional but I suggest doing this so the sausages don't dry out while refrigerating/freezing. Other alternatives for wax paper are plastic cling wrap or ice candy bags.
Prep the ingredients: Peel garlic cloves and chop until very fine. A food chopper is perfect for this task vs manually doing it with a knife.
Place all the ingredients (ground pork, chopped garlic, sugar, achuete powder, soy sauce, vinegar, salt, ground black pepper) into a large mixing bowl and mix everything until well-combined.
Scoop about 1½ tablespoon of the mixture into a sheet of wax paper. Roll into a log and twist both ends to seal. Repeat until all the mixture is wrapped.
Place in an airtight container and refrigerate for up to 3 days for better flavor.
To cook the longganisa, simply peel individual sausages and arrange in a single layer in a shallow frying pan or skillet. Add a little water and cook over medium heat until all the water has evaporated. The longganisa will cook in its own fat. Turn over several times while frying until they turn golden brown.
Notes and Tips:
You can choose not to wrap the longganisa. Just scoop out the mixture and place into your palm, roll into a log, then place in an airtight container with cover. In order to prevent the sausages from sticking to each other, place something between each layer such as wax paper, parchment paper, or even aluminum foil.
Recipe by
Russian Filipino Kitchen
at http://www.russianfilipinokitchen.com/2015/08/02/skinless-longganisa-recipe/