Monggo Ice Candy Pop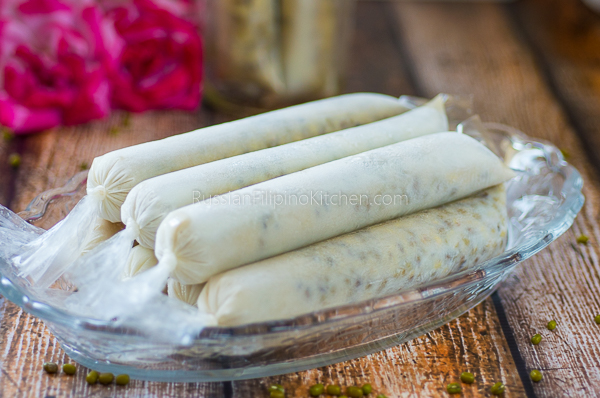 Ingredients:
2 cups pre-cooked green mung beans
1 can sweetened condensed milk (14 oz.)
2 cups coconut milk (or 1 13.5-oz can )
2 cups filtered water (or clean and safe tap water)
Tools/Materials You'll Need:
20 pieces ice candy plastic bags (1.5" x 10")
Funnel
Soup Ladle
2½ quart pitcher
Chopstick/bamboo skewer (or anything thin enough to fit the funnel hole)
Pour all the ingredients in a pitcher and stir until well-mixed. The mung beans will sink to the bottom but that's okay. You will need to stir it every time you fill the ice candy bags.
Open the bag by rubbing it between your thumb and forefinger. Insert the funnel into the opening. Stir the mixture and scoop the liquid and slowly pour into the funnel, carefully watching so the liquid won't spill. Leave about 2½ to 3 inches of space for tying. Use a chopstick or bamboo skewer to unclog the funnel if it happens.
TO TIE: Twist the bag a couple times. Create a loop and hold it with your forefinger. Using both hands to maneuver, insert the end of the plastic into the hole then pull opposite sides to create a tight knot.
Repeat steps 2-3 until the mixture is used up. Trim the ends of the ice candies (optional) and place in a freezer-safe container (I just use my baking sheet).
Place in the freezer for at least 6 hours before serving.
Tips:
Occasionally, some of the ice candy plastic bags will have some tiny holes or tear that you will only discover once you start filling with liquid or when you are tying it. Wear an apron to protect your clothes. You can also use a tray or container to hold the bag as you are filling it, to catch any drippings or mess.
When adjusting the sweetness of the ice candy mixture, make it extra sweet so you will still find it still "sweet" tasting once frozen. Somehow, the taste differs between two phases.