Easy Homemade Chocolate Ice Cream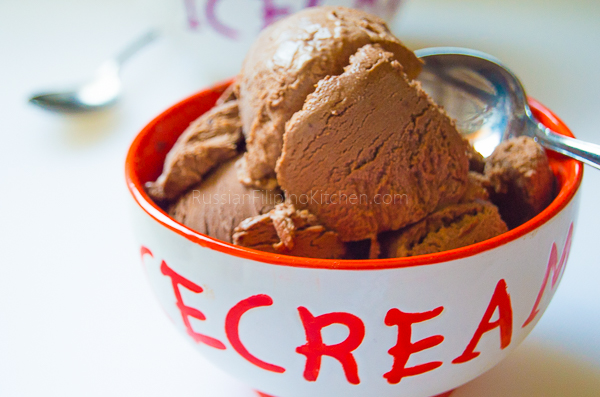 Recipe type:
Sweets, Dessert
1 can (14 oz) sweetened condensed milk
½ cup to ¾ cup unsweetened cocoa powder (depending on your taste)
3 cups heavy whipping cream or Nestle all-purpose cream
In a medium mixing bowl, empty one can of sweetened condensed milk.
Place a fine mesh strainer on top of mixing bowl. Add ½ cup to ¾ cup of unsweetened cocoa powder and sift.I personally add ¾ cup as it intensifies the color of the ice cream and we love that hint of bitterness from the chocolate.
Use a whisk to dissolve the chocolate powder and mix both ingredients well. It should be thick like shown below.
In a stand mixer, place whisk attachment. Pour 3 cups of heavy whipping cream into the mixer bowl. If you use a hand mixer, you'll need a separate large mixing bowl.
Turn on your mixer on low at first, increasing the speed to medium then to high as the cream thickens, glossy and fluffy in appearance, and stiff peaks form. Do this in about 6-8 minutes. Caution: Do not overdo whisking or you'll end up with curdled cream.
Scoop in a whiskful of the whipped cream and drop it onto the bowl of chocolate mixture. Stir gently to thin it out.
Transfer entire bowl of chocolate mixture into the bowl of whipped cream.
Use a spatula to gently combine the chocolate and whipped cream using the cut-and-fold method.
Transfer ice cream mixture into a freezer-safe container and cover. Place in freezer for 6-8 hours or overnight.
When ready to serve, remove ice cream from freezer and let it sit on the counter for a couple of minutes to thaw a little.Scoop out into individual ice cream dish and serve as is or with toppings.
Recipe by
Russian Filipino Kitchen
at http://www.russianfilipinokitchen.com/2015/04/27/easy-homemade-chocolate-ice-cream/