Filipino Style Fruit Salad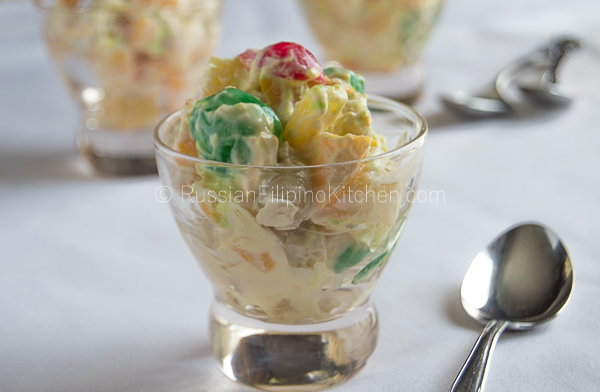 3 cans (15 oz each) fruit cocktail
1 can (20 oz) pineapple tidbits/chunks
2 cans (7.6 fl. oz) Nestle table cream
½ cup sweetened condensed milk
1 jar (12 oz) sugar palm fruit in syrup kaong (any color of choice)
1 cup shredded cheddar cheese
In a large colander, drain fruit cocktail, pineapple tidbits (if you use pineapple chunks, you can slice them into smaller pieces), and sugar palm fruit. Let stand in the sink for 5 minutes to further drain the liquid.
Meanwhile, shred about a cup of cheddar cheese if you have a block of cheese. Otherwise, skip if you have pre-shredded cheese on hand.
Place drained fruits in a large mixing bowl. Pour table cream, about half a cup of condensed milk, and 1 cup shredded cheese.
Mix together using a spatula or spoon until well-combined.
Transfer to a container with lid and refrigerate/freeze for at least an hour.
Serve chilled.
Recipe by
Russian Filipino Kitchen
at http://www.russianfilipinokitchen.com/2015/03/30/filipino-style-fruit-salad/