Russian "Korean Carrot" Salad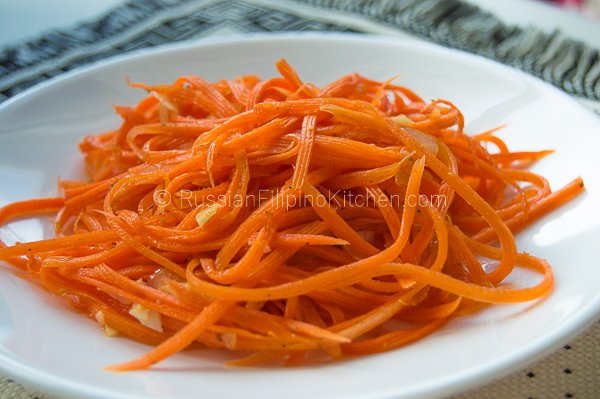 Cuisine:
Russian/Ukrainian
1 lb carrots
3 tbsp distilled white vinegar
1 tbsp granulated sugar
1 medium yellow onion
4 tbsp canola oil
1 tsp salt
1 tsp freshly ground coriander seeds
¼ tsp paprika
¼ tsp cayenne pepper
¼ tsp ground black pepper
2 large cloves of garlic
Wash and peel carrots.
Use julienne peeler or slicer to shred carrots into noodle-like shape and length.
Place in a large mixing bowl. Set aside.
Peel and chop onion.
Smash garlic with the side of your knife and mince until very fine.
Heat up a sauté pan over medium low heat, add the oil and sauté chopped onion till softened but not browned. Remove from heat.
Transfer softened onions into mixing bowl with carrots. Add the rest of the ingredients and mix until well-combined.
Transfer to a glass container with lid and refrigerate for at least an hour before serving.
Recipe by
Russian Filipino Kitchen
at http://www.russianfilipinokitchen.com/2015/02/12/russian-korean-carrot-salad/