Filipino Pork Embutido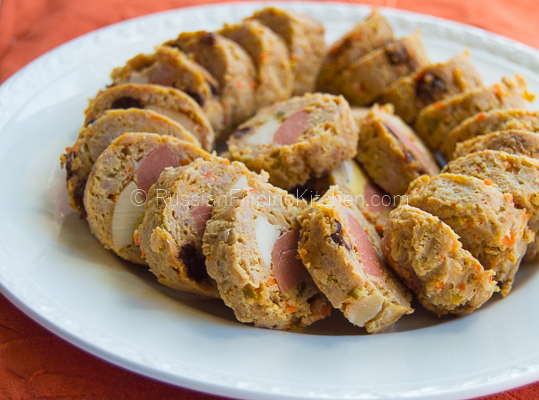 1 lb ground pork
½ cup finely chopped carrots
1 medium onion finely chopped (or about 1 cup)
½ cup plain or unseasoned bread crumbs
½ cup shredded cheddar cheese
¼ cup sweet relish
¼ cup raisins
1 teaspoon salt
½ teaspoon ground black pepper
2 large eggs
4 pieces hotdogs or 6 pieces Vienna sausage, halved
3 boiled eggs, quartered
Fill steamer with about 8 cups of water and bring to a boil while you make the embutidos.
In a large mixing bowl, combine all the ingredients except the sausage/hotdogs and the boiled eggs.
Lay flat aluminum wrap. It doesn't matter which side up, but for personal preference I like the shiny side facing down. Divide meat mixture into 4 equal parts. Scoop each portion onto the foil, spread, and press down with a spatula to flatten.
Arrange sausage/hotdogs and sliced boiled eggs on the center.
Use both hands to roll the foil away from you, tightening the roll as you go.
Pinch both ends to seal.
Repeat steps 3-6 until you're done wrapping all the meat mixture.
Arrange embutido rolls in the steamer and steam over medium heat for an hour. You'll know it's done when juices ran clear when you prick the rolls with the tip of a knife.
Remove from steamer and allow to cool. Refrigerate for at least 2 hours (overnight much better) for easy slicing.
Unwrap foil, slice to desired thickness, and serve with ketchup or your favorite dipping sauce.