Puto Maya and Sikwate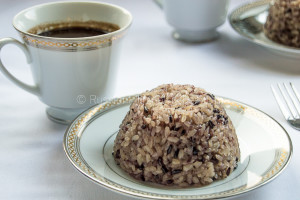 Ingredients:
(Puto Maya)
3 cups sweet rice /glutinous rice
¼ cup black rice (other names: purple rice or tapol)
2 cups coconut milk
¼ cup brown sugar
¼ cup sliced ginger
½ tsp salt
2 quarts water for steaming (8 cups)
(Sikwate)
4 pieces tableya
3 cups water
½ cup brown sugar
Procedure: (PUTO MAYA)
Soak black glutinous rice in water overnight. It helps soften the grains and makes cooking faster. If you don't have time to pre-soak, boil the rice in 2 cups water and simmer on low heat for 30 minutes. For this recipe, I pre-soak the black rice overnight, hence cutting the time in cooking by 30 minutes.
Rinse black rice with cold water to remove most of the purple color.
Rinse white glutinous rice with cold water to remove impurities.
Mix both rice in a mixing bowl.
Peel ginger and slice into strips.
Add water to steamer and add the steamer basket. You'll need a steamer with tiny holes, otherwise you need to line the basket with banana leaves or cheese cloth so the rice grains don't fall through while cooking. The steamer I use has tiny holes so I don't need a liner.
Add the rice and ginger into the steamer. Spread them evenly using a spatula or cooking spoon with a flat end.
Turn on stove and set dial to high. Cover steamer and bring to a boil. Once boiling, lower heat to medium low and let it steam for 45 minutes, mixing the rice every 10 minutes or so.
Meanwhile, in a mixing bowl, mix the coconut milk, sugar and salt.
After 45 minutes, sprinkle rice with coconut milk mixture and mix thoroughly until it's evenly distributed. At this point, the rice is still not done. You'll know by looking at the white grains. Uncooked grains still looked milky white and still nutty when you bite it. For black rice, it will be hard to bite. Check the following photo.
Cover steamer and continue cooking for additional 30 minutes until rice is al dente, mixing every 10 minutes (just cooked, soft to bite but not mushy).
Serve with sikwate (hot chocolate), ripe mango, or salted dried fish.
(SIKWATE)
Steps:
Bring to a boil a sauce pan with 3 cups of water.
Add the tableya and lower the heat to medium low. Use a whisk or cooking spoon to stir and break down the chocolate discs.
Add brown sugar and keep stirring till there are no more visible clumps.
Pour into individual cups and serve hot.