Banana Cue (Fried Saba Bananas With Brown Sugar Caramel)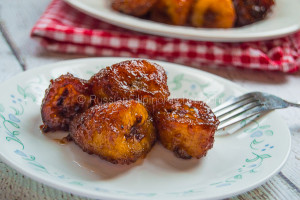 8 pieces ripe saba bananas
2 cups vegetable oil for frying
1 cup brown sugar
Peel bananas and slice into 1 inch thick. Set aside.
Place frying pan on a stove and turn settings to medium. Pour in the oil into the pan.
Add ½ cup brown sugar after two minutes and wait until it starts to melt and caramelize. Turn down heat a little so you don't burn the sugar. You'll know you're ready to fry when you see the melted sugar floats to the top.
Add banana slices or whole bananas (if you prefer them that way) carefully into the hot oil and deep fry. Use a cooking spoon or spatula to move them gently around the pan several times to coat the bananas with the caramelized sugar. Use the remaining sugar to sprinkle patches on the bananas that aren't covered with the caramel. The sugar will melt and turns into caramel as well. Continue frying until they're golden brown.
Remove from pan and transfer to a plate. Allow to cool before serving.
Tips:
• You can add or reduce the amount of sugar in the recipe according to desired sweetness.
• Use brown sugar to make the caramel. White sugar doesn't give that deep golden color on the bananas after they're cooked.
Recipe by
Russian Filipino Kitchen
at http://www.russianfilipinokitchen.com/2015/01/26/banana-cue-fried-saba-bananas-with-brown-sugar-caramel/