Chocolate Rice Porridge With Coconut Milk (Ginataang Champorado)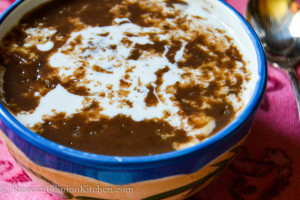 Recipe type:
Breakfast, Snacks
1 cup sweet rice
5 cups water
¾ cup brown sugar (you can add more if you want it much sweeter)
1 cup coconut milk
4 tbsp unsweetened cocoa powder
Place rice in a pot, rinse once, and add 5 cups of water. Turn on stove and bring to a boil.
Simmer for 15 minutes until rice is almost cooked. It should look puffy.
Add cocoa powder, sugar, and coconut milk. Stir until chocolate has melted. Cook for another 5 minutes until porridge has thickened.
Serve hot with a tablespoon of milk on top.
Recipe by
Russian Filipino Kitchen
at http://www.russianfilipinokitchen.com/2014/08/02/chocolate-rice-porridge-with-coconut-milk-ginataang-champorado/