Chicken Sopas Filipino-Style (Creamy Chicken Macaroni Soup)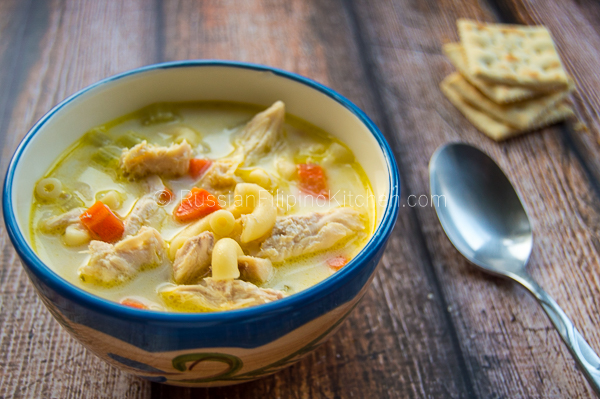 1 lb bone-in chicken breasts
½ cup diced carrots
½ cup diced celery
1 tbsp butter
1 cup uncooked elbow macaroni pasta
1 can (12 oz) evaporated milk
1 chicken bouillon cube
½ medium onion, chopped
1 large garlic clove, minced
10 cups water
½ teaspoon salt
⅛ teaspoon ground b
Fill a large cooking pot with 10 cups water. Add bone-in chicken and ½ teaspoon salt. Turn on stove and bring pot to a boil. Once it starts boiling, lower heat to medium low and simmer for 45 minutes. Remove scum that floats to the top as the meat simmers.
Use a kitchen tong or fork to remove chicken from pot. Set aside. Separate meat from bones. Shred chicken and discard the bones.
Heat another cooking pot /Dutch oven over medium high and melt butter. Saute onions and garlic till onions are soft and translucent and garlic has browned a little, about 2 minutes.
Throw in diced carrots and celery and sauté for another minute.
Add shredded chicken and sauté with the vegetables for 1-2 minutes.
Pour in the evaporated milk.
Pour in chicken broth (about 8 cups).
Season with chicken bouillon and a pinch of ground black pepper. Stir.
Throw in elbow macaroni and stir.
Bring pot to a boil, lower heat and simmer for 20 minutes, until the pasta and vegetables are thoroughly cooked.
Ladle into individual soup bowls and serve.
Recipe by
Russian Filipino Kitchen
at http://www.russianfilipinokitchen.com/2015/01/18/chicken-sopas-filipino-style-creamy-chicken-macaroni-soup/