Filipino Chicken Macaroni Salad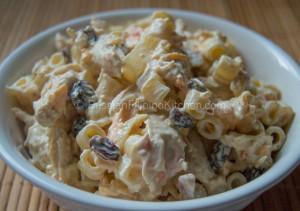 Recipe type:
Sweets, Desserts
1 lb chicken breast
2 cups macaroni pasta
1 (20 oz) can pineapple tidbits or chunks ( if using the latter, chop into smaller pieces)
¼ cup sweetened condensed milk
¾ cup raisins
1 ½ cup mayonnaise
¾ cup shredded carrots
¾ cup shredded cheddar cheese
1 teaspoon salt
Water for boiling
Place chicken breasts in a sauce pan. Add water enough to cover meat and throw in ½ teaspoon salt. Bring to a boil and lower heat to medium low and simmer for 30 minutes until chicken is thoroughly cooked. Remove from heat, drain, and set aside to cool. Shred into tiny pieces and place in a large mixing bowl.
(can be done simultaneously with step 1) Fill another sauce pan with 5 cups water, add ½ teaspoon salt and bring to a boil. Add pasta and cook until al dente (just right, which means neither hard nor soggy), stirring occasionally about 6-7 minutes.
Drain pasta and rinse under cold running water. Rinsing removes the starch that causes pasta to stick to each other. Also, it cools them much faster.
Drain pineapple tidbits, removing most of the juice. I'm using pineapple chunks so I have to chop them into smaller pieces.
Throw everything into the mixing bowl and mix thoroughly.
Refrigerate for at least an hour before serving.
Recipe by
Russian Filipino Kitchen
at http://www.russianfilipinokitchen.com/2014/11/13/filipino-chicken-macaroni-salad/