Filipino Garlic Fried Rice (Sinangag)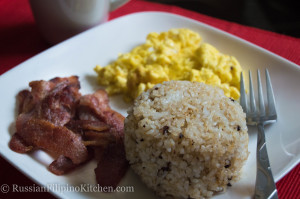 3 cups leftover boiled white rice
3 large cloves garlic
2 tbsp vegetable oil ( I use olive oil)
½ tsp salt
⅛ tsp ground black pepper
Peel garlic cloves and chop into very small pieces (other word: mince).
Heat up skillet on the stove over medium high heat and add vegetable oil.
Saute minced garlic until it turns golden or light brown.
Turn down heat to low and add the rice. (Note: I usually remove the pan from the stove while I add the rice and mix it halfway, then I put it back. This technique always works for me so I don't end up burning the garlic. Burned garlic ruins the taste of your fried rice---you can taste the bitter garlic as you're chewing).
Turn the heat back to medium high. Use your cooking spoon to break large chunks of rice and mix thoroughly. Cook until rice is slightly toasted and garlic flavor is incorporated into the rice.
Season with salt and pepper, then mix until seasonings are evenly distributed.
Serve warm with your favorite sausage, eggs, or bacon.
Tips:
Fluff the rice with a fork to make cooking easier.
Use a large skillet or saute pan so you have more space to work on. A 10-inch skillet or wider is best.
You can use less garlic or more as desired. I like making the dish with the ratio of one large garlic clove per cup of cooked rice. Sometimes, I add more depending on my mood.
Recipe by
Russian Filipino Kitchen
at http://www.russianfilipinokitchen.com/2014/07/22/garlic-fried-rice-sinangag/