Squash Okoy Recipe (Kabocha Squash Fritters)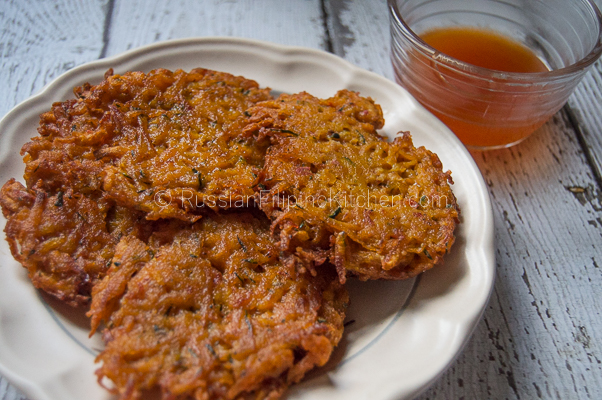 2 lbs kabocha squash
1 ½ cups all-purpose flour
1 ½ cups water
½ cup salted shrimp fry (bagoong alamang)
3 large eggs
1 ½ teaspoon ground black pepper
2 cups vegetable oil for frying
Tools You'll Need:
Knife
Cutting board
Spoon
Vegetable shredder
Large mixing bowl
Spatula
Frying pan
Kitchen turner
Paper towels
Large plate
Wash squash in cold water and pat dry with a towel. Remove seeds using a spoon then slice them into big chunks easy enough to hold for shredding.
Shred squash using a vegetable shredder and place in a large mixing bowl.
Add the rest of the ingredients into the bowl: flour, water, eggs, bagoong, and ground black pepper. Mix everything together until well-combined.
Heat the oil in a frying pan on medium high.
Scoop about ¼ cup of the mixture onto the frying pan and flatten with a kitchen turner. Fry until edges turn brown, about a minute. Flip to fry the other side until golden brown as well.
Transfer fried squash fritters onto a plate lined with paper towels to drain excess oil. Repeat step 5 until you used up all the mixture.
Serve with some ketchup or sweet sour sauce.
Recipe by
Russian Filipino Kitchen
at http://www.russianfilipinokitchen.com/2014/10/29/squash-okoy-recipe-kabocha-squash-fritters/